The snapback in global markets has been universal, as China's dealt with overheating issues, the EU's debt woes have grown larger and the strength of the US recovery is questioned. But while many markets have posted double-digits drops, one market has managed a double-digit gain — Indonesia.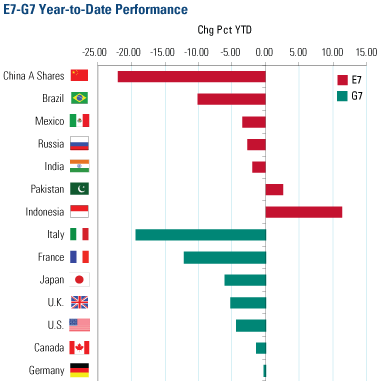 This chart shows the year-to-date performance of the major developed (G7) and emerging (E7) markets we track as of last Friday, June 4. So far this year, China's been the worst performer, down more than 22 percent with most of that coming in just the past three months. Other major markets like Italy (down 19 percent), France (down 12 percent) and Brazil (down 10 percent) have struggled as well.
In contrast, the Jakarta Composite Index has shot up 9.5 percent the past three months and 11.4 percent for the year. The only other E7-G7 market that is even positive for the year is Pakistan with a 2.7 percent gain. So why has the 2010 pullback skipped this Asian nation?
There are two main reasons. The first is the strength of the domestic economy we touched on several weeks ago (Indonesia's Good Position). A doubling of the middle class and rising urbanization over the past few years have led to strong GDP growth. Second, Indonesia is also the world's largest thermal coal exporter and its two major export partners — China and India — largely avoided the recession.
Each country imported more than 50 kilotons of thermal coal in 2009 and both are expected to see that figure increase in 2010. Despite a slowdown in China, Deutsche Bank says that China and India are going to transform the demand landscape for thermal coal over the next decade. Indonesia's also the world's largest producer/exporter of palm oil, which has seen increased demand as governments search for alternative fuel sources.
As the aftershocks of the credit crisis continue to spread, Indonesia's established itself as a market to keep an eye on. The Jakarta Composite Index is Indonesia's benchmark index of all the stocks listed on the regular board of the Indonesia Stock Exchange. The Shanghai A-Share Stock Price Index is a capitalization-weighted index. The index tracks the daily price performance of all A-shares listed on the Shanghai Stock Exchange that are restricted to local investors and qualified institutional foreign investors. The index was developed with a base value of 100 on December 19, 1990.
Source: SeekingAlpha
Popularity: 3% [?]