While many emerging markets have stalled out in 2010, digesting huge 2009 gains, Indonesia continues to ramp in quite methodical fashion. This despite a 87% gain last year.
Certainly this has been a missed opportunity, as we should have pounced last May… or July… or September… or November. I'll admit, both times the Market Vectors Indonesia ETF (IDX) broke serious support (Nov 09, Feb 10) I hesitated as I was worried about a much larger selloff. Instead, as in the US, the market just turned around and staged a V-shaped turn.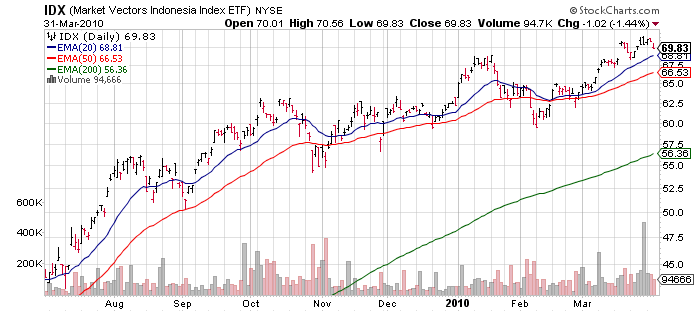 Via Bloomberg:
Indonesia's benchmark stock index, Southeast Asia's best performing market this year, touched a record high on expectations faster economic growth and record- low interest rates will boost earnings. The Jakarta Composite index climbed as much as 2% to 2,832.16, surpassing the all-time closing high on Jan. 9, 2008.
The nation's shares have climbed 12% this year and are Asia's best performers barring Mongolia and Bangladesh, as foreign funds increased purchases after the central bank raised its growth forecast and Standard & Poor's upgraded the nation's sovereign debt ratings. The gauge soared 87% last year.
Foreign investors moved more funds to Indonesian stocks in March, buying a net 4.92 trillion rupiah ($543 million) of shares after selling 1.58 trillion rupiah in the first two months this year, according to data from the Jakarta stock exchange.
Indonesia is "doing better than most countries, growth is OK, they have skipped the recession, people are buying for structural reforms, they're buying for a re-rating," said Raymond Tang, who oversees $6.4 billion as chief investment officer at CIMB-Principal in Kuala Lumpur. "Because of the economic growth you can get the possibility of a re-rating of the market, you get a bigger bang for the buck."
Indonesia's debt rating may reach investment grade by 2012 as the country's economic and political conditions improve, Standard Chartered Plc said in a recent report. Standard & Poor's raised the country's sovereign credit rating to a 12-year high of BB from BB- on March 12.
The Indonesian rupiah has risen 3.6% this year, the second-best-performing currency in Asia, according to data compiled by Bloomberg. A strong rupiah and low inflation have helped the central bank keep its key interest rate at a record low of 6.5% to support Southeast Asia's biggest economy.
Indonesia's central bank, which will meet on April 6 to review its policy, has kept borrowing costs unchanged since cutting them to a record low in August to help the economy avoid a recession. It has refrained from following Malaysia, India and Australia in raising interest rates this year even as inflation returns to the region amid a global recovery.
The central bank on March 8 raised its economic growth forecast to 5.6% from 5.2%, citing rising consumer spending.
Also from Bloomberg:
Indonesia will allow foreigners to buy property in the country and own bigger stakes in health-care companies as it completes a review of investment rules, the country's investment coordination agency said.
Southeast Asia's largest economy plans to deregulate its property industry by the end of the first half, allowing foreigners to buy homes and commercial real estate directly, Gita Wirjawan, chairman of the Investment Coordination Board of Indonesia, said in a forum in Singapore today. The move will "unleash value," he said.
President Susilo Bambang Yudhoyono, who won re-election to a second term last year, has pledged to double spending on roads, seaports and airports to $140 billion over the next five years as he aims to deliver average economic growth of 6.6% over the remainder of his term ending 2014. He won the election after pledging to attract investment and generate jobs.
"There is a spirit of liberalization with respect to health care and hospitals, which was closed off to foreign investment in the past," the investment agency chief said in the interview. Foreign investment in health care will be capped at 67%, versus 49% for other industries, because "there is a recognition Indonesia needs better health care facilities," he said.
 … expects investment to come from Indonesia's neighbors, and the country will also target "new frontiers" including the Middle East, China and India, he said. "Those are the guys that are hungry for investments in Indonesia," Wirjawan said. "The English, the Europeans and the Americans, those are the toughest bunch because of what they've gone through in the last 15 months and they see Indonesia as a basket case. It's off their radar."
Definitely a very interesting time in this country… the world's 4th most populous.
(source)
Popularity: 4% [?]